Below are the courses run by Lynda.
Click here to see Auckland Hypnotherapy Courses run by Roger.

Click here to get a course prospectus.
Strategies for Success NLP Practitioner – Part 1
July 4 @ 9:30 am

-

July 12 @ 6:00 pm

NZST
Learn in-depth understanding of the fundamentals of NLP and models for creating and facilitating change. Part 1 of the NLP Practitioner.
This course can be taken independently or can be upgraded at a later date. It is part 1, and the first 9 days of the NLP Practitioner course. It provides you with an in-depth understanding of the fundamentals of NLP and models for creating and facilitating change. (If you would like to take the FULL NLP Practitioner training, please note their is a separate combined option)
Strategies of Success has been designed and developed to an international standard for people who want a firm grounding in NLP.
In 9 exciting days, learn powerful models that create change in your life and the lives of others. We will help you understand and integrate into your life the powerful models which make NLP work in settings as diverse as education, business, sports, health care, counselling and personal development.
You'll find out why thousands of international companies like IBM, Coca cola and American Express have looked to NLP for their staff development; Why top New Zealand sportspeople like Steve Gurney rely on NLP for peak motivation and performance; Why NLP is the core of accelerated learning and why people-based organisations like Universities, Social Welfare agencies and training and business organisations fund their staff to do this course.
What will you learn
Understand more about the power of your mind
Learn about NLP and the keys to success
How to enhance your coaching with NLP based questioning for successful goal setting
Learn N.L.P Models, strategies and language for facilitating change
Building Rapport Quickly and Easily
Use both body language and choice of words to create the feeling of rapport easily and quickly, creating more cooperation at home and work. Set, and help others to set, more effective, measurable and achievable goals.
Sensory Acuity
Mirroring
Rapport
Building Rapport
Eye Accessing Cues
Predicates Sorted by Sensory System
Utilising Sensory Preference
Sensory System Accessing Cues
Representational System/Lead System
Verbal Pacing
Love Strategy
Translating Across Sensory Systems
Understand Decision Making & Thinking Processes
Identify and predict the decision making and thinking processes that others use, by observing precise body language changes. Make the perfect next move to support each person.
Use your own body language and words to communicate exactly what you intend, being powerfully persuasive, convincing and inspiring others on both a conscious and unconscious level.
Handling Conflict and Objections
Use others objections and disagreement as useful information with which to develop solutions that work for both you and them. Work with another person's way of thinking and understanding the world to help them clarify what they actually want and reach their own goals successfully.
Strategies, Sub modalities and Anchors:
Main Submodalities
N.L.P Notation
Well-Formed conditions for strategies
TOTE Model of Strategies
Eliciting a Strategy
Motivation Strategies
Decision Strategies
Spelling/Learning Strategies
Buying Strategies
Modelling
Installing a Strategy
Anchoring
Pattern Interupts
Future pacing
Techniques to improve your memory & learning
Use and teach others to use perfect visual memory (a technique which research at Monkton university shows can increase your memory by 61% in one session).
Change Emotional State Quickly and Easily
Be able to enter a state of high motivation and confidence, or a state of deep relaxation, at will in any situation. Learn to use these skills in ways that fit with your own and your clients' or friends' values.
 Understand Language Pattterns
Levels of Therapy
Reframing
Key Types of Presupposition
Identifying Presuppositions
Pacing and Leading
The Milton Model
Metamodel
Metamodel Practice Questions
Constructing a MetaphorModels of Transformation in NLP
Robert Dilts Neurological Levels
Richard Bolstads Personal Strengths Model
NLP Model of Therapy RESOLVE
Anchoring Change Patterns:
Collapse Anchors
Chaining Anchors
Change Personal History
Sub modality Based Change Patterns
Basic Sub modalities Change
Main Sub modalities
Belief Change
Swish Exercise
Trauma/Phobia Cure
Healing from Grief
Parts Integration Patterns
Dealing with conflicting parts
Dealing with self-sabotaging behaviours/thoughts/feelings
Parts
Six Step Reframe
Visual Squash
Parts Integration Model
Interpersonal Applications
Family Therapy Model
Five Step Sales Model
N.L.P Approaches to Meetings
Who owns the Problem
The Rescue Triangle
Roadblocks/Helping Skills
Open Questions/Reflective Listening
Using Reflective Listening
Reflecting Incongruity
Reflecting Problems as Solutions
Solution Focused Open Questions
I Messages
The Two Step
Gottman Research on Couples
Your Facilitator
Lynda Johnson is a Global Transformation Coach/Trainer, Master NLP Practitioner and is Certified Instructor and Adult Educator. Accredited personally by Dr Richard Bolstad of Transformations. To deliver the Transforming Communication seminar in customized formats for work teams, teaching faculties, parent groups and others.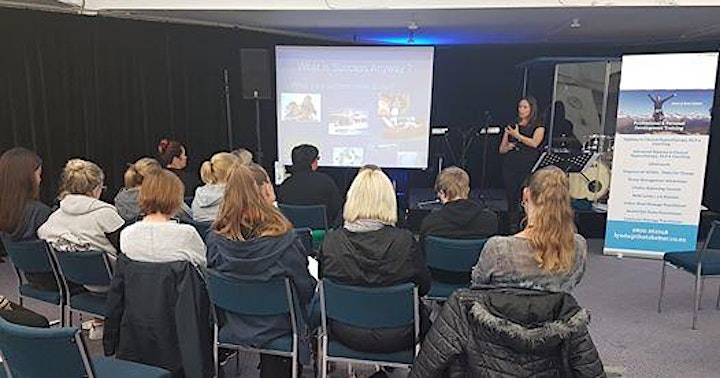 Click here to see Auckland Hypnotherapy Courses run by Roger.